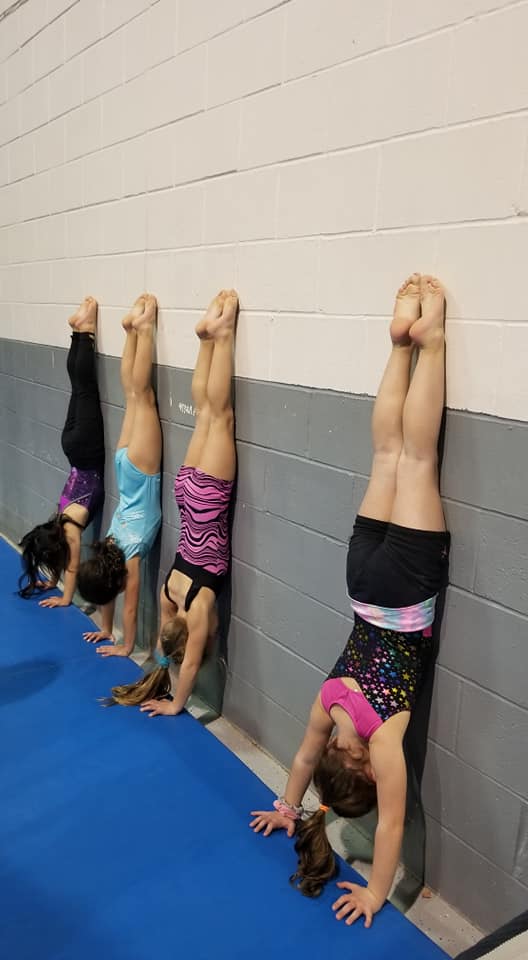 At Kids Kingdom Sports Center, home of Euro Stars Gymnastics, we believe that gymnastics is a versatile sport that can be a fun activity for all. For that reason, we do not carry the belief that a child is too old, too tall, or too anything to give gymnastics a try.
Progressive Instruction
We offer classes for toddlers to teens! As children progress, they are evaluated and students can move up to different classes based on their progression.
See our course offerings. In general, students are offered courses on their age, and from there we offer a variety of developmental programs based on their current level, but students can change courses based on their progress or need.
Students who wish to become competitive gymnasts should watch the portal and emails for information on our developmental program.
Students who wish to learn routines, but not compete can opt to stay in our in-house team. Those on our in-house team are able to learn routines in alignment with USAG, but can be modified based on their individual skill level. Girls on the in-house team are eligible to change to our competitive route based on their progress and desire.
Enrollment in our in-house team is by invitation only.
Wondering if you're ready? Ask for an evaluation at your next class. Generally, girls who have completed Intermediate and have their skills set are eligible for In House.
First Class at Euro Stars? Here are the recommended intro classes for most kids.
Running Parent and Tot
Preschool Transition (3 year old class for mostly independent young pre-schoolers)
Preschool 1 (3.5-4 year old class)
Preschool 2 (4-5 year old class)
Mighty Stars (Boys 4-5 year old class)
Wondering what comes next?
Kinder 1 (Beginner 5 year olds)
Beginner Boys/Girls
Advanced Beginner Boys/Girls
Intermediate Boys/Girls
Evaluation is done in class twice a year. Students who progress quickly or show promise may move up levels as needed. Students who are not yet ready for a class can opt for another class.
This is a general guideline and based on instructor recommendation with parent input.
Students may be invited to invite only classes or programs. If your family's desire is for competitive gymnastics, please register for an evaluation for our developmental program.