Join us for lots of fun at our Annual Open House!
Win prizes, have fun, sign up for classes and meet some of our coaches.
We offer a safe and fun environment for our events. We have a separate mini gym for our preschoolers to explore and learn. We find that when children are new to gymnastics they want to explore, and that is great! But, we also recognize safety is of utmost importance, so while children are transitioning into the program we often start classes for our 2-4 year olds in the preschool gym. We offer day time classes for our tiny toddlers, as well as homeschool gym classes.
Teen Night Out
Teen Night Out is currently not available due to COVID restritions.
When available, Join us for an evening of fun! Just $10 at the door for those with an active registration or $15 for those without a registration. Waiver is required.  Watch Facebook for additional updates.
Middle school and High School students only. Student ID required, unless signed in by a parent attesting they are of school age.
Open Gym
Open gym is not currently available due to covid restritions.
PreSchool Play Time
Stay and Play! Is available Mondays 2-3 pm and Tuesdays 10-11 am.
Join us during the school year for fun! Register online as space is limited.
The cost is $10 per child.
Come play at our gym! Get an hour of open gym play time and tons of fun!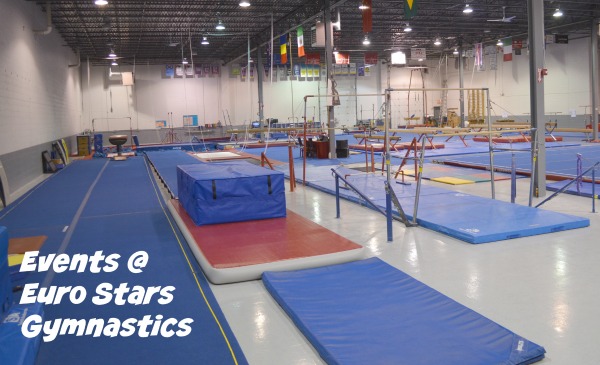 Teen Night Out
Are you looking for a fun and safe environment for your middle school or high school-aged child? We have teen night out every Friday, except when we are closed, from 6:30-8:30 pm.
Teen Night Out Resumes November 9, 2018
Cost is $10 for members, $15 for non-members.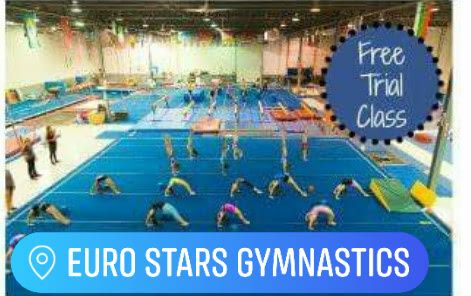 Great Events for the Family
From our family-friendly Gymnastics Celebrations to our Hosted Meets for Competitive Gymnastics, we are proud to offer a safe environment for your children to learn gymnastics and tumbling!
Events
Euro Stars Gymnastics has on-going events. From the various open gym options, to holiday parties and parent's nights out we have something going on all the time.
We can also host your event! Birthday parties are very popular at Euro Stars Gymnastics.
Inquire about our events today!
Follow us on Instagram to see what is happening![/caption]
Click to Register!
Visit us or call to register for our events. Not all events require registration.