Euro Stars Gymnastics Developmental Programs
Euro Stars Gymnastics offers developmental programs to help enhance the gymnastics experience and development for those gymnasts who show promise and a desire to compete for Euro Stars Gymnastics in the Future.'
Developmental Program is session-based and is through evaluation only. Once you sign up for try outs more information will be sent to you if your child is selected.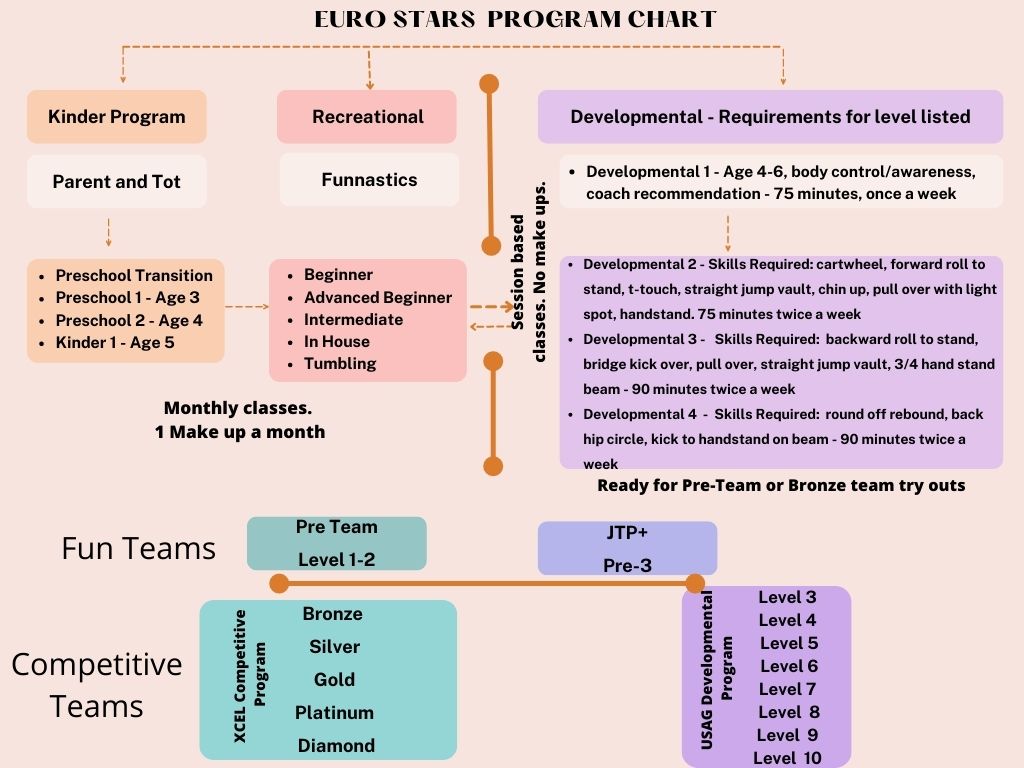 Special gymnastics invite programs
We also offer our JTP Program (short for Junior Training Program) which allows young gymnasts to focus on shape, conditioning and proper technique, to help them more easily transition to the team program. Girls may prepare for JTP through taking recreational classes twice a week or adding a class in conditioning. This is a year-long program that runs along side our developmental program.
However, not everyone will be selected for JTP, and that's okay! We have many options, including pre-team and our in-house team. Some gymnasts also need more time so taking recreational classes twice a week, instead of once, can help gymnasts with their skills and abilities. We also offer conditioning classes to help girls gain muscle, endurance and general conditioning/fitness.
Muscle memory is an important component to gymnastics so regular practice enhances the effort the gymnasts put in, which is why twice a week is recommended.
How will I know if developmental is right for my daughter?
Entering developmental can only occur through try out or recommendation by Euro Stars owner, Tania Geuorguiev.
The only way to make our team is through the developmental program, JTP or special permission from Euro Stars head coaches.
What to expect after JTP
Girls spend 1-2 years in JTP before moving into JTP+ (competitive JTP), Level 3 or XCEL Bronze or Silver. Girls can also opt to leave the developmental program and return to recreational gymnastics or choose our in-house team program.
Euro Stars Gymnastics "general" progression
Pre School Classes
Preschool classes begin with our parent and tot classes
Once a child is 3-4 and ready to try classes without an adult, they can join Tiny Twinkler or Tiny Twinkler Transition.
Tiny Twinkler is followed by Super Twinkler (Age 5 or approval) or Mighty Twinkler (Age 4.5 boys)
Recreational Classes
Beginner
Advanced Beginner
Advanced Rec
In House-team
Girls with select skills who wish to compete in recreational meets at Euro Stars. Requires a leotard.
Developmental Programs
Developmental 1, 2, 3, 4
Junior Training Program
JTP is a program that prepares girls for a future in competitive gymnastics, with a strong focus on conditioning, proper form and basic routines.
Pre-Team
Our pre-team program competes in local fun meets (non-sanctioned meets) and requires a year-long commitment.
Have questions?
We understand that there are many questions you'll have. Let us know how we can help answer your questions about our developmental programs.
Developmental programs are by invite or try-out only and while no contract is required, those who leave the program may not be able to return the same year if space or conditioning levels are impacted.
Contact Us
Euro Stars Gymnastics
47576 Halyard, Dr., Plymouth MI 48170
734-737-9500
www.eurostarsgym.com
[/et_pb_text][/et_pb_column][et_pb_column type="1_3″ _builder_version="3.0.47″][et_pb_code admin_label="Code"]