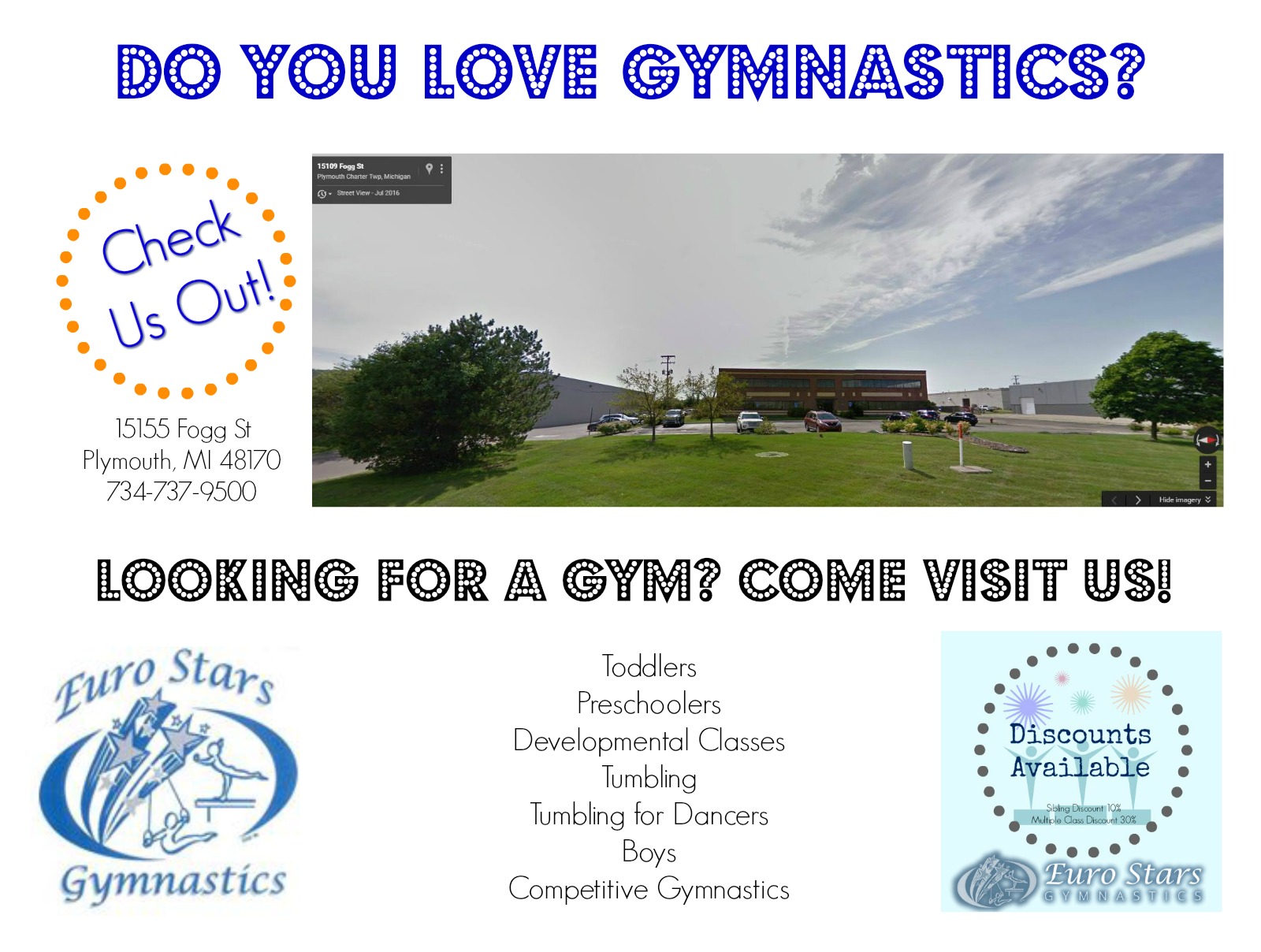 Spring Break Camp is available April 2-5.
$40/day or $125 for 4 days.
Gymnastics, tumbling, open gym and a craft available each day!
Summer Camp!
Summer Camp is available at Euro Stars Gymnastics! Every day has a schedule that includes plenty of variety.
Full Day is 9-4. But,we have early drop off available for $10/day and late pick up is available from 4-6 pm for $15/day (not available on Fridays).
July 9-13 – Gymnastics Camp
July 30-Aug 3 Gymnastics Camp
Aug 6 – Aug 10  Cheer Camp
Aug 13 – 17 Tumbling Camp
Aug 20-24 Gymnastics Camp
Aug 27-31 Summer Sampler SLIME EVERY DAY
See individual camp for schedule. Please note that full day camp includes time for individual skills, mini classes and after lunch always includes a craft. FRIDAY craft is slime! 
Summer Camp Cost – Gymnastics, Cheer, Tumbling and SLIME!
Here at our Plymouth, MI location, we understand that you have many choices for summer camp. Our full-day, full week camp is very competitively priced.
The cost is $180/week for the first child, two children is $340/week. Three children is $500/week and 4 children in the same family is $650/week. Send your child with a snack and lunch. We have a microwave available, as well as a fridge if needed. If your child is staying for a late pick up (4-6 pm), please send a second snack.
EARLY BIRD! We have an early bird deadline of May 31st, 2018 for our weekly summer camps! Register online by then using code EBPNO and save $10.
Half Day Registration will begin April 15 and will be subject to availability. Half day camp includes open gym, a brief snack and instructional time and runs 9 am – noon each day. No craft time is available. The cost for half day is $100. Before care is available for $10/day. No promo code applies.
Afternoon camp is available from 12:30-4 each day and includes, craft, instructional time and clinic. Cost is $100 and after care is available. Afternoon half day camp registration will begin April 15 and is subject to availability.  Late pick up is available for $15/day. No promo code applies.
Euro Stars Gymnastics offers a variety of class and clinic options, but we also offer camps. Our school year camps are often a mix of both gymnastics and tumbling, with crafts and free time.  Campers can choose which days they attend.
For summer camps, our camp coordinator has set up specific skills and progressions for each summer camp to help ensure that campers not only have fun, but also come out with skills!
It is important for families to know that even the most accomplished athlete goes back to basics – so the skills are progressive in nature, but a sound base is important.